Last night I stayed up late to watch this press event, realised it was probably in Japanese and decided to just follow along on Twitter instead. Then my internet gave up so I couldn't write about it. Basically, I wasted sleeping time, which I'm not overly happy about. What I am so glad about is all this new Pokémon news!
---
1.Pokémon: Let's Go Pikachu & Pokémon: Let's Go Eevee Confirmed.
The rumours were true, the next couple of Pokémon games to be released will send us back to Kanto, and are based upon 1998's Pokémon Yellow. Well, sort of. The pair of "Let's Go" games seem to be a bit more of a hybrid of Pokémon Go and an RPG, than a game in the main series and are due for release on the 16th of November this year.
The first big thing we noticed in the trailer was that random encounters seem to be out the window, with each monster actually visibly appearing in the tall grass. Battling wild Pokémon to make them easier to catch also seems to have been dropped for a system that looks almost identical to how you catch Pokémon in Niantic's mobile app, Pokémon Go. That being; using the Joy-Con's motion controls you throw a ball, the more accurate your throw is within a gradually reducing target, the higher the catch rate becomes.
That is not to say there isn't battling at all, as you can clearly see what look to be pretty traditional trainer battles within the trailer. It will be interesting to find out if there will be a way to grind levels, as without wild encounters battles you would have to assume you're Pokémon don't gain experience in the same way as we're accustomed too.
Other notable observations are:
There is couch co-op, which I think as great because now my girlfriend and I can experience what will be her first console Pokémon game together.
You will be able to transfer Pokémon from Pokémon Go over to something called "Go Park" in the Switch game. It will be interesting to see how this works, and if these Pokémon will register in the 'Dex or if you can battle with them.
There is a periphery Pokéball controller that allows you to take Pokémon out and about with you and may snag you a prize of some kind. This controller also will make this game very accessible for all players, which is a really cool thing.
---
2. Alolan Pokémon seen in a street near you.
After the event, Alolan variants of Pokémon first seen in Kanto started to appear in Pokémon Go, well Exeggutor at least. You aren't going to need to hunt too hard to find one either because, for the time being at least, they are everywhere. One appeared outside my house as soon as I opened the app, so that was cool, but kind of spoiled what I had hoped would be a good hunt for the big fella.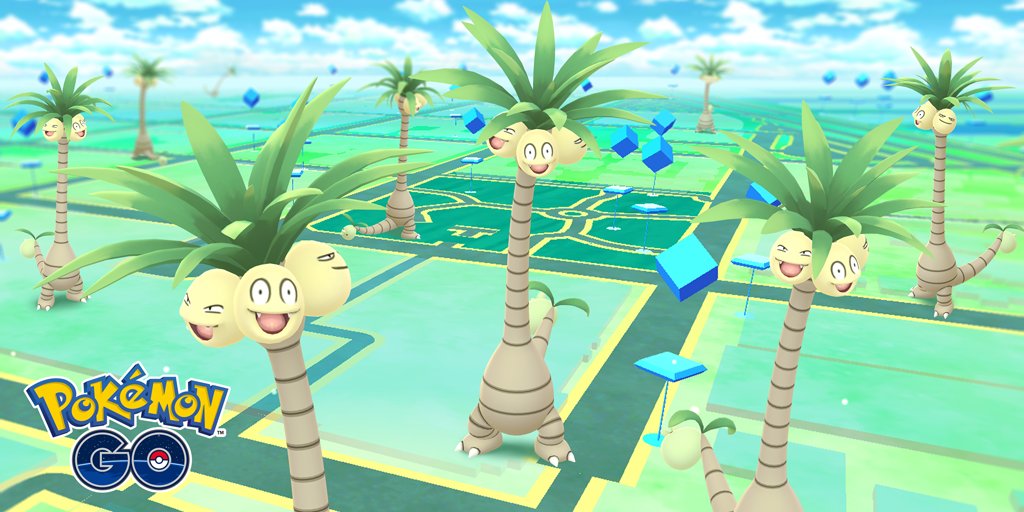 ---
What people assume is Gen 8 of the mainline series is announced.
When Game Freak said they were working on a new mainline RPG of the series they did not mean the "Let's Go" games. There's not much more information on this one, apart from what is in the Tweet embedded below:
---
Weird blocky Pikachu freaks everyone out.
What looks like a perfectly normal Pikachu, transforms into a cube-type-thing, which makes everyone's stomach go a bit weird. Pokémon Quest is a free-to-start game that was announced, and made available to play, on Switch early this morning. It is really strange looking, as you can see from the trailer below, but I am going to reserve judgement until I actually play the game. Just because something is free-to-start, doesn't mean it is terrible. Keep an eye on the site, I might write about my impressions here, maybe even do a let's play? Probably not, every time I say I'm going to do something on this site it never happens…
…Emm, that is all I got right now. Thanks for reading. Endings aren't really my strong point. So… POKÉMON IS COOL!